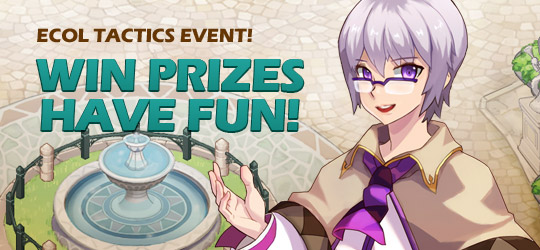 DONE

Apr 02, 2013 00:00 ~ Apr 30, 2013 00:00
Open Beta is now live! We want to fill you all in on the awesome events going on in Ecol Tactics! Events range from in game drops, to hardcore leveling, to funny comics! All threads will list details and full rewards!

Click on an Event Title below to be taken to the corresponding event thread!

In Game Events:


Spring Flowers for Philo - Spring Has Arrived! And Ecol Tactics is Celebrating! We skipped the April Showers and went straight for the flowers!


Dress the Part! Win an iPad Mini! - Ecol Tactics Players can now dress their part! Dress up and Enter to Win an iPad Mini, brought to you by GoCash!


Ecol Tactics Stamp Collectors! - Every Day you log in, you're one day closer to a prize!


Ecol Tactics Daily Rewards - Login, open mail, get cool stuff, it's that easy!


Race to 30! Win an iPad Mini! - Everyone is rushing! Everyone is racing! Everyone better level up quick!

Forum Events:


Bring the Funny! Ecol Tactics Comic Contest - Ecol Tactics brings humor and sarcasm to great tactical gameplay, and we want you to do the same!


Name the Mercenaries! - With the introduction of the Secondary mercenary classes, we're asking you to name them for us! Winner gets permanent recognition in game!


Post Your Review! - Post your feedback on Ecol Tactics on your blog, favorite forums, news sites, social networks or gaming sites and get a prize! Good or bad reviews welcome!